YES: THEY DID IT!
THE SAGA OF INS TARINI
On 10 September 2017, six young women officers of the Indian Navy set sail on an expedition named 'Navika Sagar Parikrama' for an epic journey around the world. Led by Lt. Cdr Vartika Joshi, the crew comprised Lt. Cdr Pratibha Jamwal, Lt Cdr P. Swathi, Lt S. Vijaya Devi, Lt B. Aishwarya and Lt Payal Gupta. It was a bright clear morning in Goa, when the Raksha Mantri Smt Nirmala Seetharaman flagged of this intrepid team from the INS Mandovi Naval Training Base. Sailing on INS Tarini, an indigenously built Indian Naval Sailing Vessel (INSV), the six women officers set out, determination writ large on their faces, for an adventure the likes of which few have the opportunity to even dream off. And in the culmination of that journey on 21 May 2018, the officers created history, having spent 254 days at sea, circumnavigating the globe.
India's first solo circumnavigator, Cdr Dilip Donde, who had accomplished this feat in 2010, was the one deputed to mentor the all women crew. Being an old hand, he gave them a few tips which stood them in good stead in the long journey ahead. "The sea does not distinguish between men and women," and "Look after your boat, otherwise it will conspire with the sea and give it back to you," he had told them. Very sensible advice indeed, which the crew religiously followed, spending hours every day on the ships maintenance and upkeep. And when INS Tarini came in to berth at the Mandova jetty in Goa, the same place from where it had started its epic journey over eight months earlier, these six women had scripted a new chapter in India's history, becoming India's first all women crew to circumnavigate the globe.

It was a feat of endurance, team spirit and cooperation. In the course of their journey, Tarini covered 21,600 nautical miles and crossed the Equator twice, sailing the three Great Capes —Leeuwin, Horn and Good Hope. It docked first at Fremantle Port in Australia on October 23. In November it reached New Zealand's Lyttelton port, thereafter crossing Drake Passage — a body of water between South America's Cape Horn and the South Shetland Islands of Antarctica on the 19th. Their journey took them around Cape Horn off the Southern tip of South America and thence to Port Stanley in the Falkland Islands. They were forced to make an unscheduled stop at Port Louis in Mauritius for repairs as the steering gear was damaged, and in the final leg of their journey, they set sail from Cape of Good Hope on March 15, for Goa.
The Indian Navy dared to dream big. And in the successful execution of that dream, Indian women naval officers broke yet again another glass ceiling. Receiving the team at Mandovi, Defence Minister Nirmala Sitharaman welcomed them home. Her tweet of 21 May echoed the feelings of a billion plus Indians:
INSV Tarini has sailed over 21600Nm, visited five Countries, sailed across four Continents, three Oceans, passed South of three Capes and crossed the Equator twice!
#WelcomeHomeTarini
3:36 PM – May 21, 2018
CHINA'S J 20 VS INDIA'S SU 30
A Military confrontation between India and China will inevitably lead to escalation over the skies of Tibet. Winning the air war will be a critical requirement for the militaries of the two countries, as control over the skies will lead to comparative advantage of any land based offensive or defensive operation.
PLAAF has its latest fighter, Chengdu J-20 operating over the Tibetan skies. It is a stealth aircraft and is reportedly the most advanced of all such aircraft in Asia. To combat the J 20, the IAF has the Su-30 Mk 1 in its arsenal. How will these two aircraft measure in a face off over the Tibetan Plateau?
Su-30 Mk 1
The IAF's Sukhoi Su-30 MKI is a twin-seater multirole fighter aircraft. It is manufactured in India through a India Russian JV between Sukhoi's Design Bureau and Hindustan Aeronautics Limited (HAL). With a maximum take off weight of 38,800 kg, the 21.9 meter long Su-30 has a wingspan of 14.7 meters and a height of 6.4 metres. It incorporates an aerodynamic airframe made of titanium and high intensity aluminium alloys and is powered by two Al-31FP turbojet engines which enable it to reach a maximum speed of 2120 kilometres per hour (Mach 1.9) and climb at a rate of 300 metre per second. It has a combat range of 3000 km without refuelling which increases to 8000 km with in-flight refuelling system. It can cruise at altitudes of 11 to 13 km. Its two pilots sit inside a tandem glass cockpit equipped with an integrated avionics suite incorporating Elbit Su 967 head-up display (HUD), seven active-matrix liquid crystal displays (AMLCD) and primary cockpit instrumentation. The aircraft also has multifunction displays (MFD) while the rear cockpit has a monochromatic display screen for air-toground missile guidance
The Su-30 MKIs N011M PESA radar is being replaced with the more advanced Zhuk AESA radar. It has OLS-30 laseroptical locator system and Litening target designation pod to guide air-to-surface missile and laser-guided munitions. 40 Su 30 MKIs have also been modified to carry the supersonic BrahMos cruise missile. It has a 30mm Gsh-30-1 cannon and 12 hardpoints capable of carrying missiles and bombs. It also has Tarang radar warning receiver and jammers for electronic warfare. Most importantly, as per Air Chief Marshal Dhanoa, the Su-30MKI radar detected and tracked the Chengdu J-20 jet while the latter was flying over Tibet, despite the fact that the J- 20 has stealth technology.
Chengdu J-20: This is a "fifth generation" single-seat, multirole stealth fighter for air-to-air and air-to-ground combat roles with supersonic cruise speed and integrated avionics. Its glass cockpit with a bubble-shaped canopy has two liquid crystal displays (LCD) and a head-up display (HUD). As per the Chinese, the fighters passive electro-optical detection systemgives the pilot 360° coverage. Test flown for the first time on 11 January 2011 the J-20 can access real-time data from Chinese military satellites, Divine Eagle anti-stealth Unmanned Aerial Vehicles and other airborne early warning and control (AEW&C) systems. Manufactured by Chengdu Aircraft Industry Group (CAIG), it is 20.3-20.5 metres long, has a height of 4.45 metres and a wingspan of 12.88-13.50 metres. Its range of 1200 km can be extended to 2700 km with with external fuel tanks. It is powered by the Russian AL-31 engine and has a maximun take-off weight of 34,000-37,000 kg. There are two lateral bays with four hardpoints each for air-to-air missiles while the fuselage has a larger bay under it for carrying missiles and other weapons. It also has an internal cannon. It is equipped with an AESA radar along with a chin-mounted infrared/electro-optic search and track sensor. While the J-20 is a "fifth generation" fighter, there are doubts over its stealth and super cruise capabilities.
INDIA-VIETNAM DEFENCE TIES
The coming years are likely to see increased defence and security cooperation between India and Vietnam. Towards this end, Defence Minister Ms Nirmala Seetharaman will be visiting Hanoi in June or July this year. Later in the year, the Chief of General Staff of the Vietnam People's Army and the Commander-in-Chief of Vietnam People's Navy will also be visiting New Delhi to continue the discussion on security cooperation between the two countries.
Recently, from 21-25 May, personnel from the Indian and Vietnamese navies interacted with each other in preparation for a first of its kind naval exercise between the navies of the two countries, which has been scheduled from 30 May onwards. Towards that end, three Indian Warships, stealth frigate INS Sahyadri, missile corvette INS Kamorta and fleet tanker INS Shakti which were on operational deployment to South East Asia and North West Pacific region as part of the Navy's 'missionbased deployment' strategy, will reach the Tien Sa Port in Vietnam's Da Nang on 30 May.
An indication of the security cooperation is that Vietnam has also expressed interest in buying both the BrahMos cruise missiles as well as the Akash surface-to-air missile defence systems. Prime Minister Modi, during his visit to Hanoi in 2016, had announced a USD 500 million defence line of credit for Vietnam to facilitate the purchase of military equipment. In response to emerging regional challenges, the two countries have elevated their ties to a Comprehensive Strategic Partnership. India has been training Vietnamese submariners to operate Kilo-class submarines and will now likely also train Vietnamese fighter pilots to fly Su-30 fighter jets.
BRAHMOS FLIGHT TESTED
TheDRDO successfully conducted the first flight test of the BrahMos cruise missile with an extended life of 15 years on 21 May 2018 from the Integrated Test Range (ITR) in Balasore, Odisha as part of service life extension programme. As per statement released by the DRDO, the precision strike missile flew in its designated trajectory and the key components functioned perfectly. This is the first Indian missile whose life has been extended from 10 to 15 years. The Indian Army is equipped with three regiments of BrahMos, the missile being first inducted in 2007. The successful test of the missile with an enhanced shelf life will result in huge savings of replacement cost of missiles held in the inventory. Brahmos, with its unmatched speed, precision and firepower has emerged today as the ultimate weapon of choice in modern warfare.
ARMED DRONES FOR INDIA?
The Indian military has for long been on the lookout for armed unmanned aerial vehicles (UAV) to bolster both its conventional war fighting capability as well as to get an edge in the fight against terrorism. The possibility now exists of the US selling armed UAVs to India. The legislative process for enabling such sales is under way in the US, though it is still far from clear how long, if at all such a process may take to materialise. Should the sale go through, then India would be among a small group of countries to be sold the high-end U.S. technology.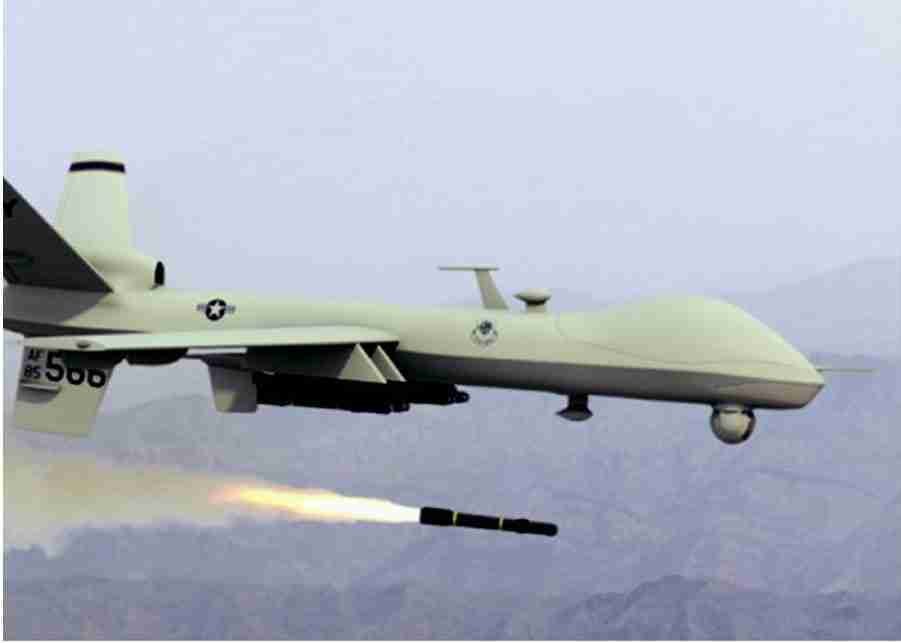 INDIA-PAK AGREE ON CEASEFIRE
On 29 May, India and Pakistan agreed to restore ceasefire on the Line of Control (LoC) in J&K. The agreement was reached during a hotline conversation between the Director General of Military Operations (DGMO) of India, Lt Gen Lt Gen Anil Chauhan and his Pakistani counterpart Maj Gen Sahir Shamshad Mirza. As per the statement issued by the two countries, both sides have committed to fully implement the ceasefire understanding of 2003 in letter and spirit forthwith and to ensure that henceforth, the ceasefire will not be violated by both sides. Both The DGMOs further agreed that "in case of any issue, restraint will be exercised and the matter will be resolved through utilisation of existing mechanisms of hotline contacts and border flag meetings at local commander's level". While this is a welcome step, it remains to be seen whether Pakistan will cease support to terror groups operating from its soil. If not, will that be seen as an infringement of the ceasefire agreement?
Parliamentary Committee Report
The Committee on Estimates, headed by BJP veteran Murli Manohar Joshi, in its draft report has made some very scathing comments on the state of the country's defence preparedness. Emphasising that India cannot afford to lag behind in defence preparedness, the Committee in its report has said that "nothing concrete" has been done for the implementation of the 'strategic partnership model' unveiled by the government a year ago, which envisaged a key role for private players in building military platforms in India in partnership with major global defence companies. It also came down hard on insufficient budgetary allocation for the Armed Forces. While this years budget had a nominal increase of 7.81 per cent over last year's Rs 2.74 lakh crore, the Committee stated that in GDP terms, the defence expenditure this year was the lowest since 1962 and the country cannot afford complacency when it needs to be prepared for a twofront war.The draft report will be placed before Parliament when it convenes for the monsoon session.
Some highlights of the report of the Parliamentary Committee are as under:
• India cannot afford to lag behind in defence preparedness in view of the intensity and complexity of its security challenges due to the current geo political environment.
• There is urgent need to replace obsolete armaments with state of the art weapon systems for which substantial increase in capital budgeting is essential.
• The defence expenditure at 1.56 per cent of GDP was at the lowest level since 1962 when India-China war was fought. In the current geo political scenario, a country of the size of India cannot afford complacency when it is a question of defence preparedness even for a two-front war while retaining its dominance in the Indian Ocean. There is thus an urgent need for allocating adequate financial resources for preparedness both for current needs and expansion.
• The slow pace of the increase in the indigenisation of the defence sector remains a matter of concern. Modernisation plans therefore should be accorded the highest priority to enable the services to meet the challenges concerning the safety and security of the country.
• Dependence on foreign suppliers, particularly for military hardware, not only results in expenditure on the import of defence equipments but makes the security of the country vulnerable during emergency situations as the supplier may not provide the required weapons or spare parts.
DPP Simplified
The Defence Acquisition Council (DAC) headed by Defence Minister Nirmala Sitharaman, approved on 22 May various measures to further simplify the Defence Procurement Procedure (DPP). The efforts to streamline defence procurement procedures have been ongoing and continuous, to reduce timelines and to enable timely delivery of equipment to the Armed Forces. The significant changes inter alia include devolution of powers within the MoD and Service HQ, concurrent running of the acquisition process instead of sequential stage clearance, deletion of repetitive processes, aligning of various documents with revised financial guidelines, amongst others.These measures will be incorporated in the DPP-16, the manual governing the defence procurement procedure and should hopefully lead to reducing procurement timelines through concurrent action and obviating procedural delays. These amendments form part of the ongoing Business Process Re-engineering in Defence Capital procurements.