India shares 3,323 km of its land border with Pakistan and it runs through Indian states of Gujarat, Rajasthan, Punjab and Jammu & Kashmir. The Indo-Pakistan border has distinct geographical features and varied terrain. Currently, Border Security Force (BSF) at the Indo- Pakistan Border, which attempts to deter infiltration by terrorists and preventing cross-border smuggling of arms, ammunition and contraband, holds 656 Border-out-Posts (BoPs). These Posts are the main workstation of BSF along the borders and act as a self-contained defence out-posts with a specified area of responsibility.
High Attempts of Infiltration at the Line of Control
The Line of Control (LoC) is the most active and live portion of the border. Over 406 terrorist infiltration attempts were reported from the LoC in Jammu & Kashmir in 2017, which was a five-year-high, according to the Ministry of Home Affairs estimates. Till five years ago, the infiltration attempts along LoC stood at 277, last year it was 371.
Automation of Border-Out-Posts (BOPs)
The BSF could explore leveraging the power of technology to improve the efficiency and effectiveness of the BOPs, through automation of various processes, restricting the access to unauthorised person, safety of weapons and most importantly, provide relief to BSF Jawans through use of automated duty- assignment system. Following technologies could be used for automation of BOPs.
Currently, the process of Gate Management at BOPs includes verification by a BSF constable and maintaining a register. This process could be automated by implementing artificial intelligence software for facial recognition to allow entry of BSF personnel and authorised people such as farmers of border villages. This system could support in automatically opening of the gate after facial recognition and maintaining video footage of the persons entered.
If this project gets implemented, and if any terrorist tries to intrude into the BoP campus, then the person will face IR rays. The moment, the person will cross the invisible rays, an early warning alarm signal will automatically get transmitted to the BSF troops and Quick Reaction Team. Thereafter, CCTV camera will also gets activated and start recording the infiltrator. This could prevent infiltration attempt into BoP campus. In addition, motion detection system could also be used in places where gaps and fence is damaged or at sensitive points of LoC.
At BoP campus, the safety of weapons in Kote is one of the major issues. Kote Non-Commissioned Officer is authorised to issue and deposit weapons through maintaining a register.
Furthermore, as per the existing process, the weapons are locked in the Kote through using lock and iron chain for every weapon. This process could be streamlined via use of technologies such as electronic lock of weapons and fingerprint scanning module. This system will be password protected and only those BSF troops could access which Kote commander authorises. However, in case of emergency, company commander could be given rights to open and release the locks of all weapons.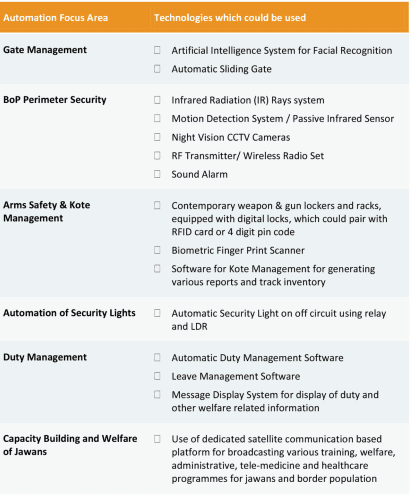 At present, the process of switching off the security lights in morning is done manually by BSF troops. Automation of security lights in the BoP is an ideal way to maintain balance between energy efficiency and security. It has been observed that the current manual duty management mechanism is flawed and leaves insufficient time for BSF troops to get decent sleep and rest. In addition, it has been noticed that Naka, OP duties are repeatedly given to the same jawan. In this context, a software based duty management system could be developed which could ensure that the BSF jawans get sufficient time for rest and ensure duty points is not repeated. This could promote transparency in day-to-day duty assignments. Leave management module could also be added to this software.
There is paramount need of broadcasting training, welfare, administrative and healthcare related programmes at the BOPs through dedicated satellite communication based link. To address this need, BSF's Gujarat Frontier has partnered with Bhaskaracharya Institute for Space Applications and Geo-informatics (BISAG) programme of the Government of Gujarat. This initiative of the BSF could be replicated to other frontiers to communicate with the border men as well as border population.
Way Forward
The BSF has limited resources for border patrolling, guarding Indian borders and man border checkpoints. Against this background, the BSF could leverage Smart technologies and reduce its dependence on manual systems for border management. This could increase the productivity of BSF jawans. It is imperative that BSF develops and embraces these new innovations and at the same time focus upon change management and capacity building.
For capital expenditure by the BSF, the Home Ministry's budgetary provisions have been pegged at ₹233.86 crores for the financial year 2018-19, a hike of 16.3 % over revised estimates of 2017-18, with a special emphasis on procuring machinery & equipments and motor vehicles. This budget provision could be used to modernise the 656 BOPs at the Indo-Pakistan border. I feel that BSF could easily allocate ₹33 croreout of ₹233.86 crore in this financial year to initiate the process of automation of BOPs in phases.
In conclusion, automation of BOPs will open the door to an incredible array of potential benefits, from efficient manpower management, transparency in operations, safety of arms & weapons, and early warning system, which could provide sufficient time to quick reaction team for taking action against intruders and terrorists.
Ankit Gupta is currently working as Senior Assistant Director in 'Homeland Security' sector of FICCI. In his current role, he is looking at bridging the gap between policing and technology. He is working on various issues like Policy for UAVs/ Drones, SMART Policing, Police Modernisation, Smart Border Management, Cyber Crime Management and issues in the public procurement policy. He has created the first ever-SMART Policing Awards in this country. Views expressed in this article are personal. The data has been referred from Ministry of Home Affairs' Annual Report 2017-18 & Union Budget 2018-19, Govt. of India.